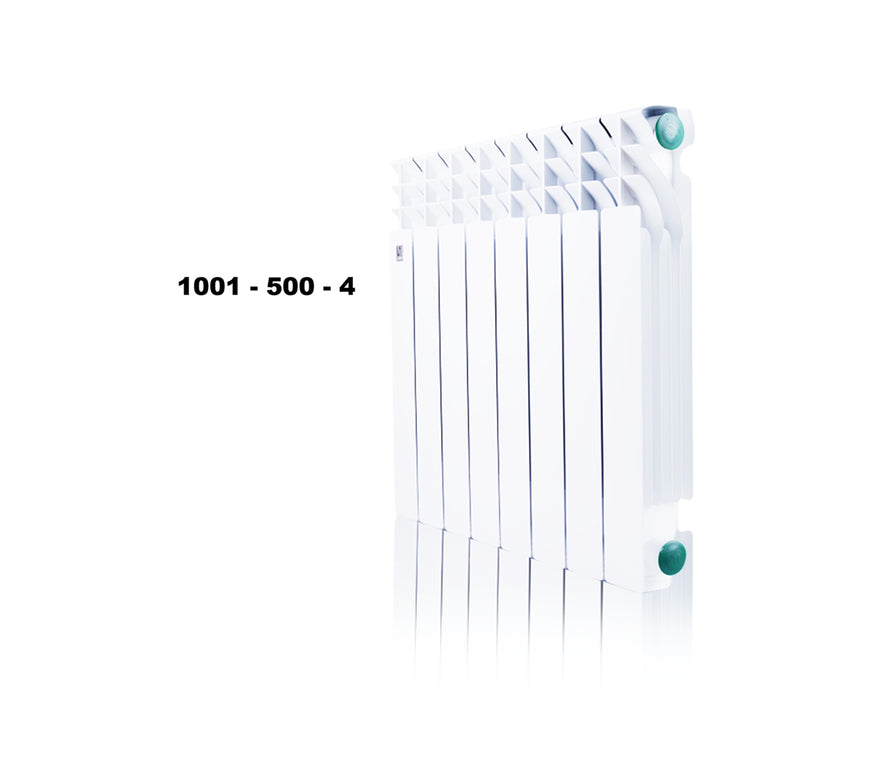 Suntask High Output Aluminium Radiators for Sale Ireland
Choose a stylish and modern upgrade for your home with our die casting horizontal Aluminium Radiator UR1001-500 series which offers heating response rapidly through its high output. There are six sizes available: from 4 panels 582mm(h) x 320mm(w) x 85mm(d), great when space is a crucial factor, to 14 panels 582mm(h) x 1120mm(w) x 85mm(d) for when maximum heating output is required. These aluminum radiators are extremely potent and effective to operate at cost efficient prices. They are in stock in Dublin and can be delivered within Ireland. Our aluminium radiators are produced by the highest industry and EN442 Standards from ISO9001:2008 registered Manufacturer. They are perfectly fitted for pairing with modern heating systems e.g. heat pumps or traditional heating systems e.g. condensing boilers and are suitable for both high temperature and low temperature heating systems.
Aluminium Radiators 4 Panels
Each single module is 582h x 80w x 85w   139W   474BTU each panel
UR-1001-500-4piece    total      0.55kW     1896BTU
Height (mm) 582
Width (mm) 320 (80×4)
Thickness (mm) 85
Central Distance (mm) 500
Thermal Output ΔT=64.5℃ W 196
Pros and Cons of Aluminium Radiators vs Steel
The main pros that make aluminium the best radiators from steel and iron ones are that aluminium is a lightweight metal, quick to heat up, malleable, and abundant in nature. As a result, alumninum radiators are easy to install, easy to be built into different designs and shapes, cheap, and heats up faster than any other materials.
The cons of aluminium radiators are that they cool down as quickly as they heat up and will need protection from rust. Our radiators come with a finish for protection and are resistant to corrosion, but aluminum should be treated with care. They will soon transform your room into a warm and welcoming space.
Best Aluminium Radiators Best Prices Dublin
Suntask die-cast aluminium radiators provide high outputs and speedy heat response in both traditional (oil, gas, solid fuel) and modern (solar, biomass, heat pumps) heating systems. The aluminum radiators are 85mm in depth from the wall to the front of the radiator. They are available in 6 sizes: 4 panels 582mm(h) x 320mm(w) x 85mm(d), great when space is a crucial factor, 6 panels 582mm(h) x 480mm(w) x 85mm(d), 8 panels 582mm(h) x 640mm(w) x 85mm(d), 10 panels 582mm(h) x 800mm(w) x 85mm(d), 12 panels 582mm(h) x 960mm(w) x 85mm(d) and 14 panels 582mm(h) x 1120mm(w) x 85mm(d) for when maximum heating output is required. Extremely potent and effective to run. These radiators have highly rapid heating responses and robust convection. They are the best in radiating heat and moving it through the air to heat up the room.
High Output Aluminium Radiators
Those domestic radiators that have high BTU rating are referred to as high output radiators.  It is implied that you are looking at a radiator that operates at a higher temperature and you will have a warmer home.
A radiator is generally considered high output when the BTU rating is over 9000, although there is not official point at which a domestic radiator is defined as a high output one.
So why don't all radiators have high output?
It is simply due to the fact that not all radiators need to have high output. And not all radiators can be. In a small room such as cloakroom or laundry room, you wouldn't need a 2K BTU radiator.
For a large room, however, you would need a radiator with high heat capacity to be able to heat up the whole room. In order to do that, you will need to take into consideration of the calculation of the amount of heat you need in the room before installing a high output radiator. You might also need to compare the design and style of the radiators you are looking at to purchase.  
You can find high output radiators that will suit your needs in different types of radiators for example flat panel radiators or tubular radiators. All of these will have the capacity to produce high heat that is enough to warm up your home.
There are so many shops to choose the best radiator that will suit you, even the high output radiators if that is what you want to get. You can find tubular radiators with great output as well as powerful flat panel radiators. All of these will deliver high heating performance throughout your home.
Tubular Radiators vs Panel Radiators