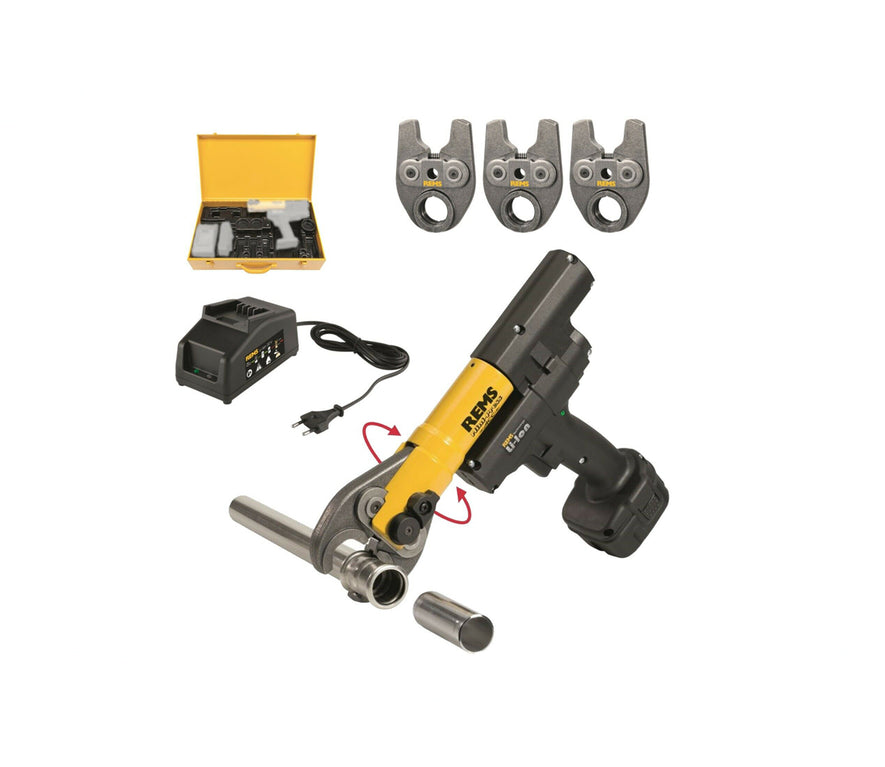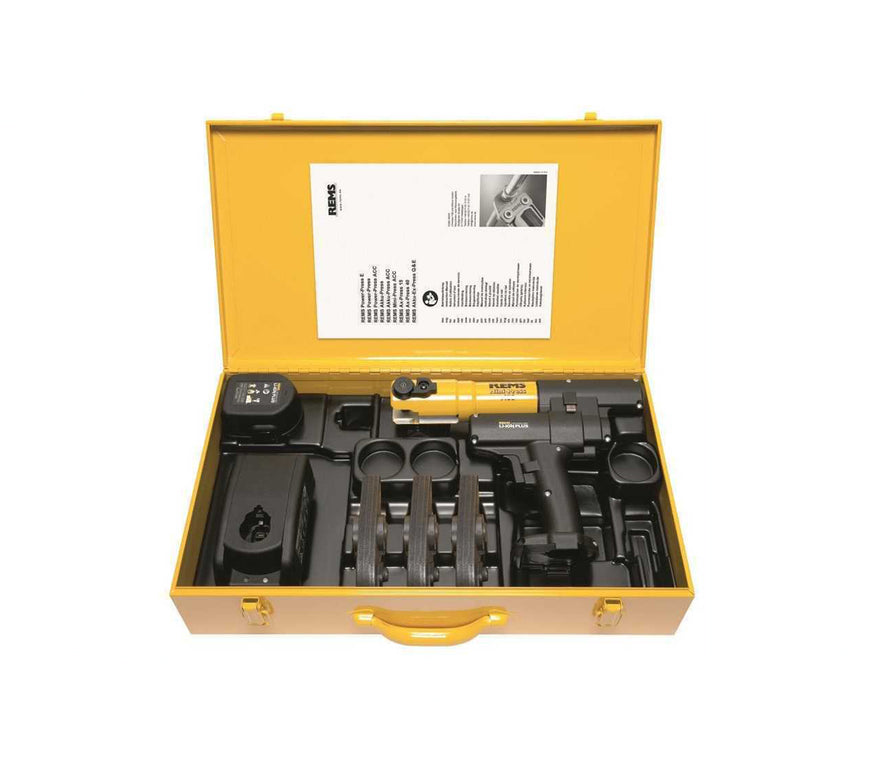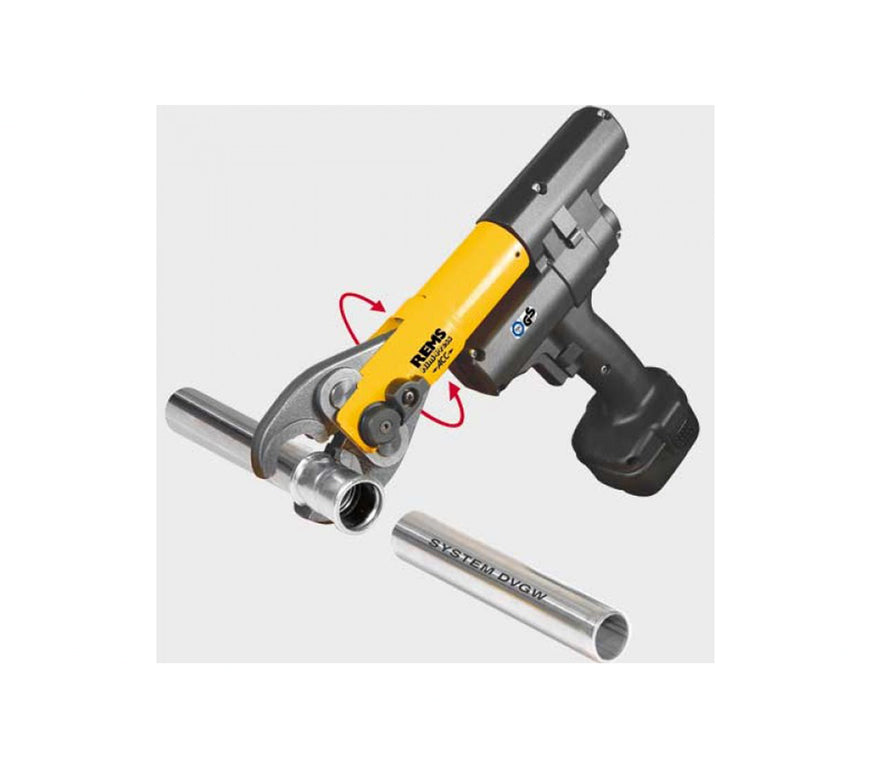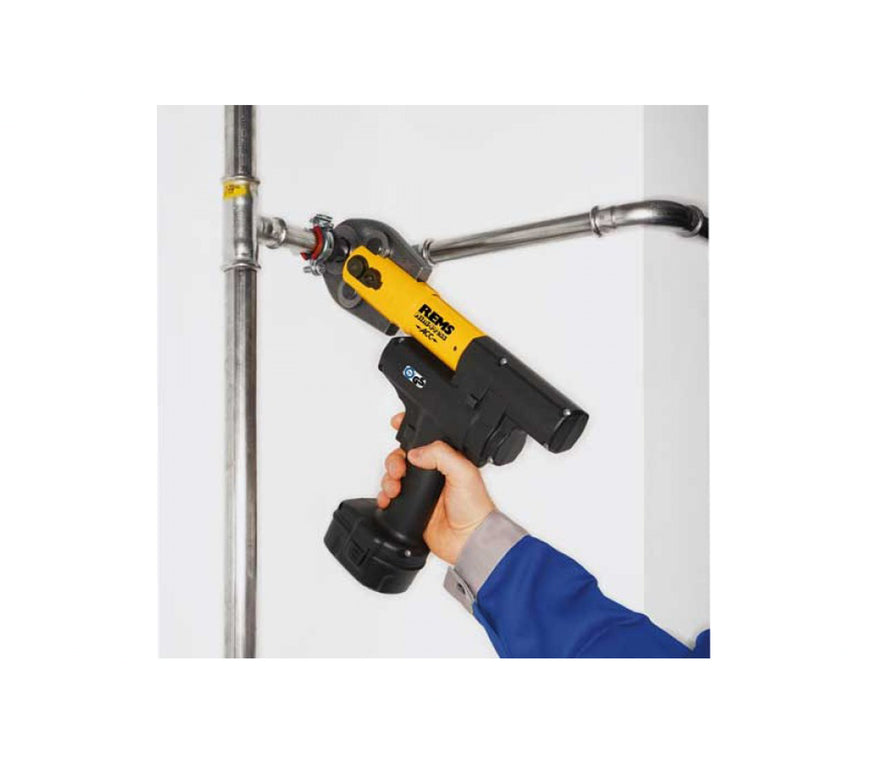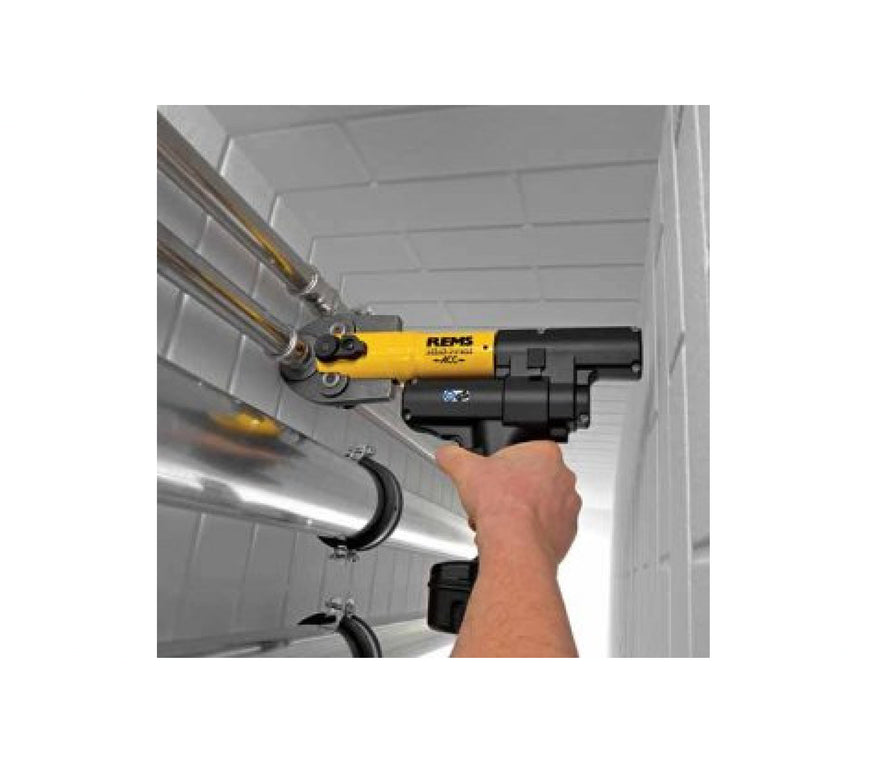 REMS Mini Press Gun, REMS Tool, Pipe Crimping Tool 
This mini press gun can be battery or cord operated. One Li-Ion battery is included. It is a pipe crimping tool for producing pipe pressing joints in 10mm - 40 mm, 3/8" – 1 1/4" diameter for all prevailing pressfitting frameworks.
There is programmed circuit control which secures crimping within seconds. The swivelling pressing tongs seat allows access to pipe work from diverse angles making confined areas more accessible. Rems mini press gun enables automatic lock of the pressing tongs and automatically retracts jaws after finishing of an operation.
REMS mapress gun high compression pressing tongs
These high pressure squeezing tongs are manufactured in exceptionally solidified steel. The pressing forms of rems pressing tongs are able to correspond specifically to the respective pressfitting framework. Extremely well balanced tool suitable for single handed operation in terms of freehand and overhead situations.
The compact design of this pipe crimping tool makes it low weight because of the unique design of connection in the pressing tongs.
REMS mapress gun jaws crimp gun pipe crimping tool
The drive unit for Rems mini press battery is only 2.4kg and under 34cm in length, which makes it the tool of choice for working in confined areas. It is an effective electro-hydraulic drive with powerful battery engine; 14.4 v, 420 w output, strong planetary adapt, eccentric responding pump and compact high power hydraulic system Li-Ion battery plus innovation, exceedingly safe stable Li-Ion 14.4 v battery with 1.6 ah capacity for long life – roughly 330 pressings. This pipe crimping tool provides powerful pressing force for effective and perfect press jointing.
Temperature checking amid charging process, working temperature extend -10 to +60°C. There is no memory impact for maximum battery control. Charging times are short with a rapid charger.
REMS tool Ireland mini press kit 22v battery

The rems mini press has ergonomically designed housing, integrated led lights in 2 colour which provides reliable and safe service and functionality. The thrust and pressing force is enormous provided by the rems pressing tongs. It is a universal, efficient tool with automatic circuit control for pressing pipe joints for all prevailing pressfitting systems. Fitted for battery or corded operation. Pipe pressing joints 10 to 40 mm, 3/8" to 1 1/4".
Extra light, extra tiny, extra convenient. Rems mini press tongs with auto circuit control secures crimping within a few seconds and automatically locks pressing tongs and retracts jaws upon finishing of an operation.
The Rems mini press crimping tool kit includes the following items:
1 Pressing tongs/ Mini pressing tongs 2 Tongs retaining bolt 3 Button 4 Bolt 5 Press rollers 6 Housing grip 7 Rotation direction lever 8 Safety inching switch 9 Pistol grip 10 Pressing jaw 11 Pressing contour (pressing tongs) 12 Bolt 13 Reset button 14 Pressing heads 15 Expander 16 Expanding head 17 Expanding jaws 18 Expanding mandrel 19 Adapter tongs / adapter tongs Mini 20 Pressing ring 21 Pressing segment 22 Pressing contour (pressing ring or pressing segments) 23 Machine status check 24 Locking nut 25 Battery 26 Graduated charging level indicator (REMS batteries 21.6 V) 27 Rotary sleeve (REMS Power-Press XL ACC) 28 Pressure indicator (REMS Akku-Press 22 V ACC)
Safety instructions
Do not use the rems mini press gun if damaged. Do not reach into moving parts in the pressing area. Never operate radial presses with the tongs retaining bolt unlocked. Always position the radial press with pressing tongs, Mini pressing tongs, pressing ring with adapter tongs on the press fitting at a right angle to the pipe axis.  Do not start radial presses without pressing tongs, mini pressing tongs or pressing ring with adapter tongs. 
Before using pressing tongs, pressing rings with adapter tongs (pressing jaws, pressing slings with adapter jaws) from other manufacturers, check whether these are suitable for the REMS radial presses. Use only undamaged pressing tongs, mini pressing tongs, pressing rings, adapter tongs, pressing heads and expanding heads. Pull out the plug or remove the battery before assembly/disassembly of pressing tongs, mini pressing tongs, pressing rings, adapter tongs, pressing heads and expanding heads. There is a risk of injury. 
Never let the power tool operate unattended. Switch off the power tool during longer work breaks, pull out the mains plug/battery. Protect the batteries against heat, sunlight, fire, moisture and wet. Do not use the batteries in areas where there is a risk of explosion and in the vicinity of inflammable gases, solvents, dust, fumes, liquids for example. Avoid contact with leaking batteries. Never recharge the non-rechargeable batteries, open them, throw them on fi res or create a short-circuit.