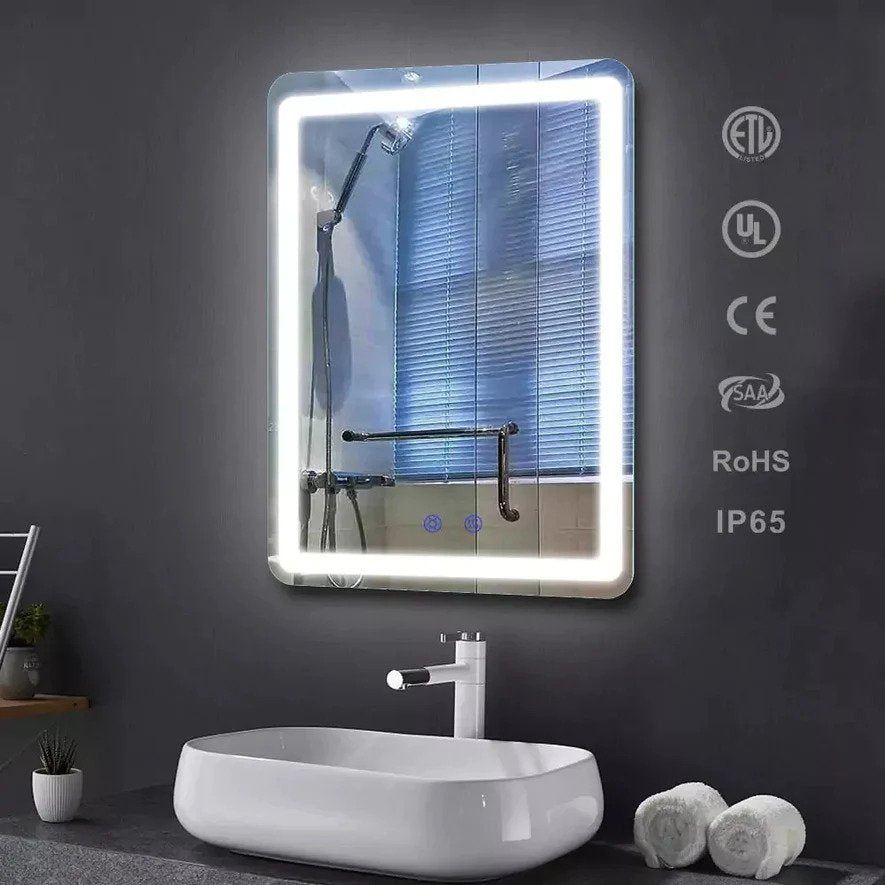 Why Should You Buy Vanity Mirror with Lights – Is it Worth the Money?
While some may say natural light is superb for makeup applications, it is great to have a vanity mirror with lighting for quick and easy application. It will possibly show whether you've been too heavy with your blush or if your highlighter is a bit frosty.
A vanity mirror with lights is great to be used in the bathroom or even bedroom to make your grooming routine easier than ever. It has the ability to magnify and adjust the lighting when viewing. Those who struggle with uneven makeup or look for accuracy and precision during a self-care regime would highly benefit from vanity mirrors with LEDs.
Here's everything you should know about vanity mirrors with lighting:

Why Invest in a Good Vanity Mirror?
A sleek and elegant lighted makeup mirror is surrounded by multiple LED lights that offer everything from a subtle glow to a full sunshine effect. It is best to amp up your living space, room, dressing table, or bathroom.
It usually comes with dimmer switches so you can create custom mood lighting, which can be romantic and help you discover a luxurious atmosphere in your bathroom. Whether you're putting on makeup, shaving, or just following your skincare routine, you need to clearly see what you're doing and that's where a vanity mirror with lighting comes in handy.
If you're remodeling your bathroom or refreshing light fixtures, it is great to invest in vanity mirrors to accommodate your personal needs.

What to look for in a Lighted Vanity Mirror?
Nowadays, there is plenty of options available for illuminated vanity mirror, no matter how technologically advanced you want to get. To make the right selection, here are some features that you should consider:
Magnification - Before you purchase, know what sort of magnification it will provide you. Many mirrors offer up to 5x magnification, which is suitable for tasks like applying foundation and lipstick. If you need to take on more precise tasks like tweezing eyebrows, 10x magnification or more can be useful.
Mirror Size - Always make sure to pick an option that fits into your vanity space without compromising your ability to apply makeup. It is great to have countertop options and storage units to organise items when not in use. If you have limited space, wall-mounted options can be an excellent choice.
Lighting Mode - While some lighted vanity mirrors may have a single type of light, plenty of modern designs have now dimmable and multiple light temperatures. This includes daylight, warm light, and cool light to help you look your best wherever you're heading. This feature can give you a delightful experience as you can switch light modes depending on your needs.
Some Extras - A new generation of LED vanity mirrors has built-in phone holders and chargers so you can film yourself in action. Whether you're looking for a tabletop vanity mirror with huge lights or setting up a personal space with a compact mirror, you can find the best lighted vanity mirrors to get a spa-like experience.
Why Suntask.ie?
Stop hunting for the best lighted vanity mirrors or LED bathroom mirrors as you can purchase these products at Suntask.ie. We are experienced in supplying fog-free LED bathroom mirrors, underfloor heating systems, radiators, pipes, cylinders, solar panels, pumps, valves, and other accessories.
We offer a huge variety of options for every taste, budget, and preference. So, get ready to create a vanity space that is dreamy and luxurious.