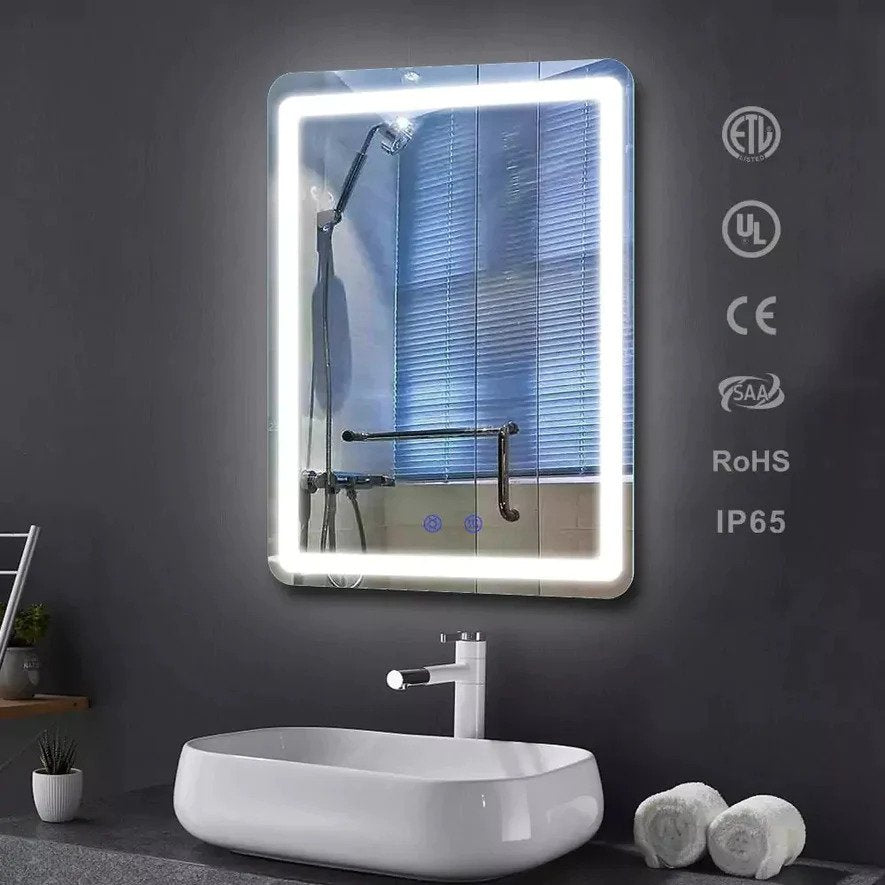 Why LED Bathroom Mirrors are an Ideal Choice to Make Your Space Look Amazing?
Back then, incandescent bulbs were used for framing the vanity to make the makeup job easier. The same functionality has been pulled elegantly into the modern era with LED bathroom mirrors.

It comes in various shapes and sizes, with numerous additional features that can drastically change the way you do your skincare or makeup regime.

Illuminated bathroom mirrors come with energy-efficient bulbs that brighten the entire space and give you gentle brightness so you can groom yourself in no time. Bathroom Mirrors With Lights Homebase have been carefully designed to suit a wide array of interiors and homeowner needs.

Keep reading to learn more about the benefits and features of LED bathroom mirrors.

Why Buy LED Bathroom Mirrors?
You would love to have bathroom vanity mirrors with lights. It gives you maximum brightness and visibility to make your makeup routine simpler than ever before. Here's a closer look at some of its benefits:
LED Mirrors Compliment Any Style and Space - Mirrored glass works in any space to add charm and sophistication. Similarly, LED bathroom mirrors bring a sense of aesthetics and elegance to any space in a contemporary blend.
LED Illuminated Mirrors Make You Look and Feel Good - Bathroom mirrors positioned above or over mirrors give you unflattering unidirectional light, which isn't good for shaving, applying makeup, or getting ready.
Illuminated mirrors, on the contrary, give a clean, uniform spread of backlight that ensures your makeup routine goes smoothly at all times. If you need some self-love and confidence, lighted bathroom mirrors will let you feel amazing from within.
LED Mirrors Give Useful, Atmospheric Lighting - Having an efficient source of light in your bathroom is never the wrong thing. The powerful, versatile, and dimmable LEDs in your bathroom mirrors will give you a wide range of options.
Whether you want to relax, take a hot shower, need a brighter light in the middle of the night, or spice up your makeup, illuminated mirrors could be your best bet.
Also, in comparison to traditional bulbs, LEDs are modern, energy-efficient, and long-lasting. It consumes less energy, and thus, makes them better for our environment.
Illuminated Bathroom Mirrors have Remarkable Features - If you're looking for adding a perfect finishing touch to your bathroom, go for fog-free LED bathroom mirrors – scream modernism, minimalism, style, and grace.
Here are add-on features you found in some best-lighted bathroom mirrors:
Dimmable light settings with memory function
High brightness level with 3-colour changeable function – Cold White, Natural White, and Warm White
Defogger system – usually has demister heated pads behind the glass to prevent condensation build-up.
Smart touch sensor switch to adjust brightness and lighting
Waterproof technology
These features make bathroom mirrors with lights more functional, versatile, and useful in a wide range of situations. It can also be paired with a towel rail to give your space a distinctly modern feel.
Choosing the Perfect Bathroom Mirrors with Lights
When looking for Bathroom Mirror Lights in Ireland, consider the following elements to make the right choice:
Size – A wide range of size options are available, in different orientations to suit your preferences.
Shape – Available in many shapes, with different aesthetic advantages. So, the ultimate decision depends on which will work best for your space.
Style – Lighted bathroom mirrors are usually sleek, minimalist, and modern. It gives you plenty of options to match mirrors to your preferred aesthetic.
Vanity vs Mirror Wall – Vanity mirrors are more intimate while mirror walls provide good lighting throughout. Choose what suits your needs in the best possible manner.
Final Words
We all like to keep up with functional, effective, and aesthetically pleasing trends to make our lives easier. LED anti-fog bathroom mirrors are one of the best items at the moment and we are proud to stock a wide range of them at Suntask.ie.

Not look they look good and make you feel superb, but also work in any space, are easy to install, and come with amazing features.