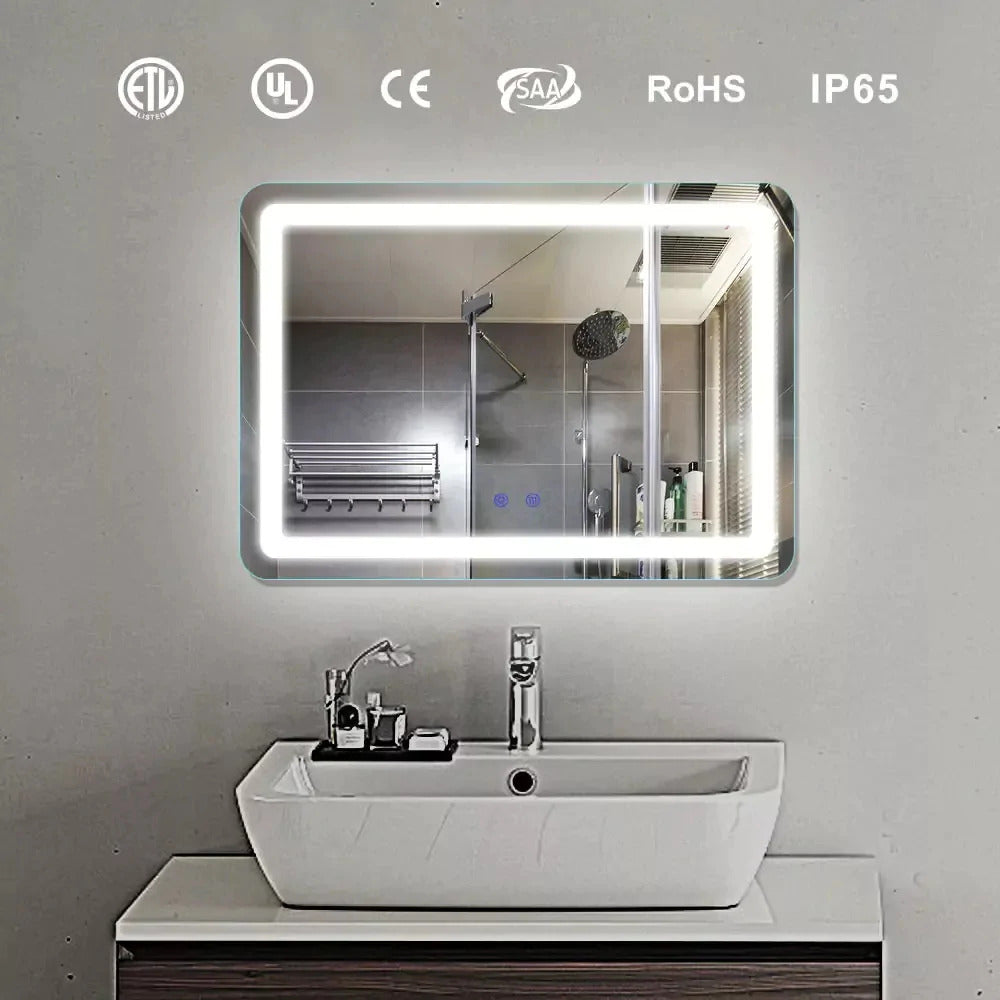 Why are Bathroom Mirrors With Lights Getting More Popular than Traditional Mirrors?
There are several backlit mirror options available to match any design and provide a spotless, tastefully lit space. 
A few advantages of backlit mirrors are as follows:
1. No Shadows
Regular bathroom lighting setups frequently cast shadows on your face and impair your ability to view yourself in full illumination. Shaving or applying makeup may be more challenging when certain areas of your face aren't completely visible. However, bathroom mirrors with lights offer complete illumination and evenly spotlight your entire face.
Since they are frequently made with a contemporary flair, backlit mirrors are frequently much thinner than other kinds of mirrors. Bathrooms in modern homes are increasingly smaller and thinner, which might create extra space. You may be able to choose a larger mirror, which is useful for shared bathrooms as well as for giving the impression that the space is bigger.
2. Power Savings
Incandescent light bulbs, which consume a lot of electricity and have an average lifespan of 1,200 hours, are commonly used in bathroom lighting fixtures. However, LED illumination, which consumes significantly less electricity and has a lifespan of about 40,000 hours, is used in bathroom mirrors with lights also called as backlit mirrors. This implies that you will significantly lower your carbon footprint and save money on your electric bill.
3. Bright Lighting
The LED illumination used in backlit mirrors is high-quality and comes in warm or cool color temperatures to match your skin tone. It also gives you a pure, faultless, and all-over glow. By doing this, you can finish any task with confidence that your face and/or body will be adequately lit.
4. Style
A backlit mirror might be a simple method to add style to your bathroom if you're trying to do so. Each of the mirrors we sell at Aamsco can be used as the centerpiece of your design. Depending on your taste, they can lend a touch of refinement, modernity, boldness, or minimalism.
5. Some Extra Features 
You won't have to worry about washing down your mirror after a shower because many backlit mirrors come with extra features like motion and/or proximity sensors and an anti-fog feature.
If you're also interested in bathroom mirrors with lights for your home or business, please
contact us
today