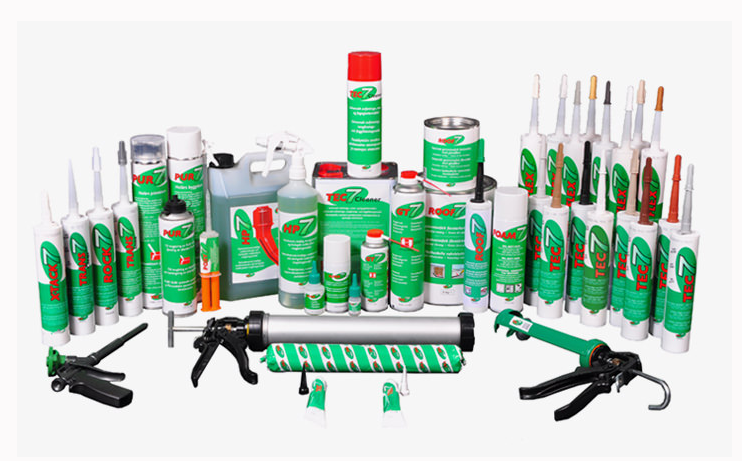 Tec7 Products in Ireland - Everything you need to Know about Different Tec7 Products
Your usage of a product relies heavily on the quality, durability of the product as well as how well-equipped it is for your application. One of the popular industrial name is TEC7 which consists of a range of products for in multi-purpose uses.
Only the best MS Polymers are used to create TEC7 adhesives, giving our customers durability and the assurance that they are utilizing high-quality goods in their applications. 
When you are looking for TEC7 in Ireland, there are different product ranges of this brand. Following are the different Tec7 Products: 
TEC7 Trans Clear
Its transparency makes it a fantastic option for perspex, fish tanks, and window frame sealing and repair. 

Can be used on damp and dry surfaces 

Unusual bonding on the majority of materials without primer 

Totally odorless and free of any solvents or isocyanates 

Resists vibrations, dries without shrinking, and retains flexibility 

After curing, excellent chemical resistance 

Tensile strength of 22 kg per square centimeter 

Resistant against UV rays and the elements, as well as fungus and bacteria 

Simple to implement and organize
Tec7 Pur7 Pro B1 Expanding Foam
Very Low Expansion - 20% Maximum Expansion 

Defiant to Fire: Class B1 

Permanent Flexibility and 60-Minute Fast Curing 

Suitable for usage at -100C freezing temperatures 

Expansion Pressure Minimum 

The B1 fire-rated foam Tec7 Pur Pro is appropriate for a variety of mounting and insulating tasks.
TEC7 Remove All
How to Use 
To fully comprehend the product you are using, always read the technical data sheets. 

Take out as much of the product as you can; for example, if using Tec7, take out the bead first. To get rid of the residue, select All. 

Eliminate any dirt or dust. 

Use Remove All and let it soak into the surface. 

Repeat as required. 

After removing All has had time to work and you are satisfied with the outcome, remove the product from the substrate and give it a good water rinse.
TEC7

Plumbflush The New Concentrated Heating System Cleaner
Concentrated System Cleaner for Heating

It is appropriate for use with all water-based heating systems. 

Prevents sludging and aids in enhancing the functionality of your system's operating components 

Removes built-up deposits, lime, rust, and corrosion. 

Easy to use
TEC7 Tec Gun
The expert cartridge weapon. 

Excellent build 

Patented wear-reduction system 

Greater longevity 

Direct transfer from the handle to the bar 

Less pulling motions are required 

Broadcast from 12:00 to 1:00 (easier pumping and a more equal product flow) 

Painted and galvanized materials (no corrosion) 

Suitable with all common cartridges 

A visible cartridge holder 

The pistol can be hung up using a special hook during or after usage. 

Convenient handle
CA TEC7 Clean 
Application of CA Clean
To fully comprehend the product you are using, always read the technical data sheets. 
Use the foam trigger to apply on the appropriate stain. 
Permit the stain or soiling to work. 
Eliminate with a moist cloth 
If necessary, repeat step 5 after a thorough water rinse.
TEC7 X-Tack7 Instant Grab Adhesive
Coverings for walls and facades include plaster, real stone, brick, concrete, aluminum, and glass. 

All thermal ceiling panels, synthetic ceiling panels, wood, PVC, PUR, etc. 

Window frames: solid wood, coated aluminum, and synthetic 

Natural or painted door frames and window sills made of stone, brick, concrete, aluminum, brass, etc. reliable and secure. 

Marble, granite, Belgian blue stone, porous materials, and earthenware are used for floor, wall, and plinth tiles. 

Roof components: All roofing components consisting of wood, steel, or in conjunction with lead sheets and roof covering (excludes bitumen). 

Construction materials: All building materials are constructed of materials like copper, stainless steel, aluminum, and metal.
Apart from the above-mentioned, there are several other TEC7 Ireland products, including:
TEC7 Trans Metallic 

TEC7 Cleaner 

TEC7 Sealant 

TEC7 Pur B2 Expanding Foam 

TEC7 HP Clean 

TEC7 Roof – Roof Repair 

TEC7 Multi Clean7 

TEC7 Filler 300 ML 

TEC7 Filler 250 ML