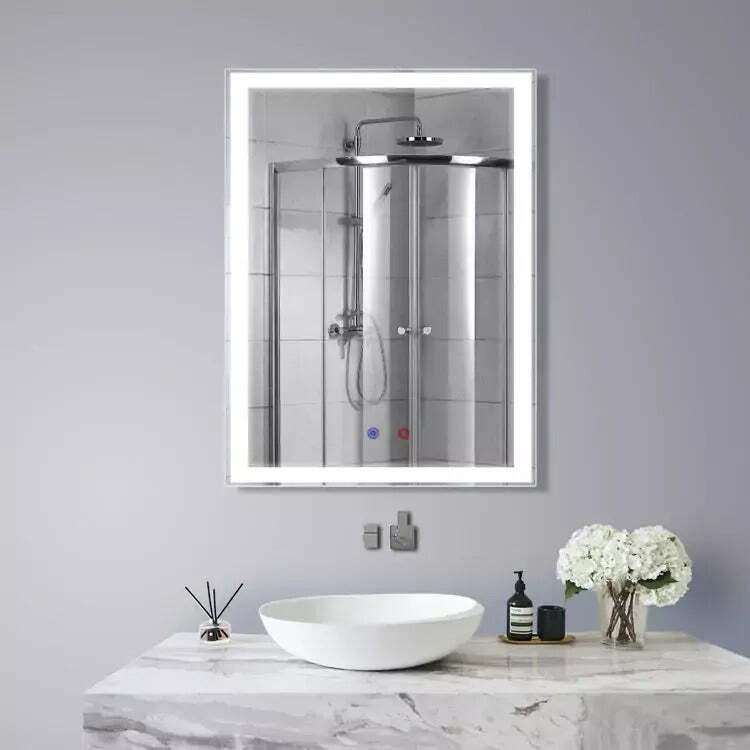 LED Lit Mirror with Touch Dimmer- Replace Your Ordinary Mirror
It's a universally acknowledged fact that everyone loves mirrors. No matter how late you are for work that last final touch-up boosts your confidence tremendously. Although we meticulously peep into the mirrors to prep ourselves for the day and yet somehow we end up missing out on something or the other due to the unavailability of sufficient lighting.
The right kind of lighting around the mirror would transform the way you start off your day as it accentuates your appearance in the mirror. That's exactly why you need to get your hands on the new and trendy LED Lit mirror with touch dimmer. It's a perfect alternative to your ordinary mirror which is often equipped with multiple LED or halogen bulbs. 
What Is a LED Lit Mirror? 
LED lit mirror is the trendiest mirror available as a perfect replacement for a normal mirror. The former comes with innumerable LED bulbs that light up your appearance and surrounding so that you can use the mirror like never before. Having an LED mirror surely solves the problem of poor light and helps you prepare yourself better for work, parties, etc. Its growing popularity among people shows that LED mirrors are gradually becoming a daily life necessity. The best part is these new form mirrors are available in numerous sizes, designs, and shapes as per the convenience of the customers. 
What are the Perks of Buying an LED Mirror?
There is more than one reason to bring an LED mirror to your home. Check out the below-mentioned that you may experience on adding an LED mirror to your bathroom or even bedroom. 
a) Better Lighting
Putting up makeup or dressing up in poor lighting is a problem people don't discuss enough. LED lit mirrors with touch dimmers ensure appropriate lighting for the users. It enhances the appearance that boosts confidence and helps them dress better. 
b) Compliments All Kinds of Interiors
LED mirrors are the newest addition to modern designer houses. Everyone seems to want one for their bathrooms or bedrooms as it blends with all sorts of modern interiors. It not just transforms the area but also adds a sense of luxuriousness to your house. To top it up, LED mirrors with touch dimmers are the current fad that is here to stay. 
c) Energy Efficient
LED Mirrors are more than just another lucrative lighting gadget. These mirrors are embedded with numerous LED bulbs that are durable and consume nominal energy too. Although LED mirrors come with numerous bulb options, it is always advisable to buy the mirrors with LED lights. 
d) Anti-Fog Reflection
It's an undeniable tussle to get rid of the fog from the mirror after a hot shower. LED mirrors are fog proof and provide crystal clear reflection at any given point. 
e) Lighting Control Option
Many LED mirrors come with a touch dimmer that allows you to control the brightness of the mirror as per your convenience and need. Get rid of the daily struggle to shave, groom, and makeup and brighten up your reflection with LED mirrors. The touch dimmer option is often coupled with memory function. 
f) Longevity
The LED mirrors come with anti-fog and other in-built technology that make them a bit more durable compared to ordinary mirrors. Even LED bulbs are known to last longer which means you don't need to change the lights every now and then. 
g) Color Change Technology
There are quite a few intriguing LED mirrors that are equipped with 3 colour change technology that lets you change the color of your mirrors as your mood. These multi-illuminated mirrors surely add extraordinarily to your bathroom. 
Conclusion
Your old bathroom mirror needs to be replaced with an LED lit mirror with touch dimmer that would enhance your reflection and lets you control the brightness and color of your mirror.
These mirrors are anti-mist and waterproof which lets you experience a crystal clear reflection. If you are apprehensive about buying an LED mirror then make sure to read through the aforementioned benefits and get your hands on your choice of LED mirrors now.