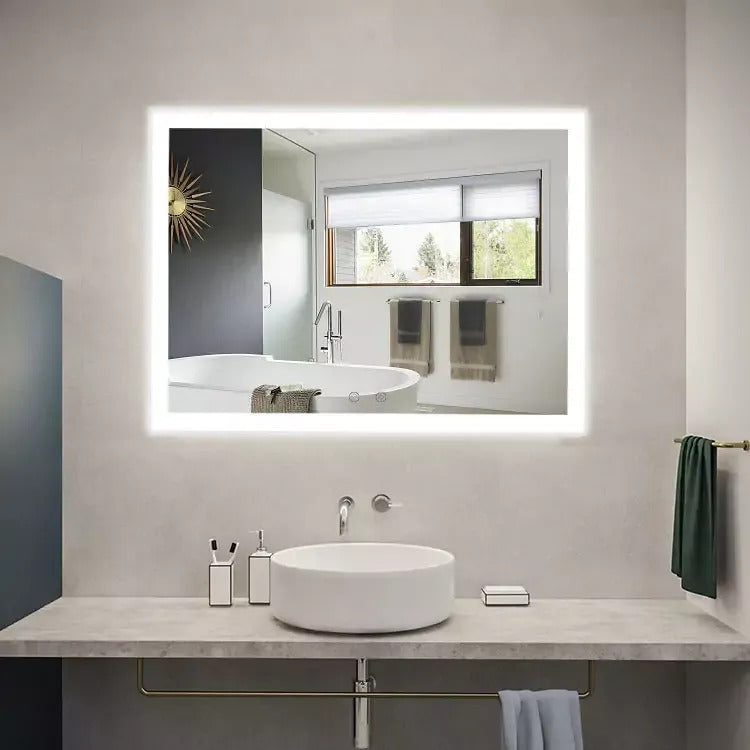 How to Install LED Bathroom Mirror - Things to Keep In Mind
For both men and women, bathroom mirrors are vital household items. Installing a unique mirror with LED lights could be a choice if you are getting ready to set up your new bathroom and are seeking the best bathroom mirror. 
So What is an LED Mirror?
A mirror that has Light-Emitting Diodes is known as an LED mirror. There are various ways in which these are incorporated into the mirror. For instance, designs with side bulbs have lights along the edges, while those with backlighting have LED bulbs hidden behind the mirror's glass surface.
What Is The Need For an LED Mirror?
Things you should know before you proceed with how to install LED bathroom mirror:
1. Enhancing One's Appearance 
You require an LED makeup mirror with lights so that you can see yourself doing make-up or choosing the best haircut to compliment your appearance. You may not properly tie it all up, but it is possible to pull your hair back into a classic ponytail without being able to see yourself. To inspect your reflection, you will need a good mirror. 
2. Personal Care 
Without a mirror, it is impossible to wash your teeth and apply your facial mask. You must check your teeth to determine which areas are dirty and whether your face still needs to be scrubbed. Consequently, a mirror would be required to provide you with a precise reflection of your face. 
3. To Make the Space Brighter 
A mirror brightens up any room, whether it be your bathroom, bedroom, or living room. The mirror may be used to decorate your living room in addition to lighting up the space and adding brightness. This will give the room a more lively, energetic, and large feel.
How to Install LED Bathroom Mirror?
LED bathroom mirrors don't perform the same functions as a typical supermarket or department shop mirror, which can be hung with a thread. Because these LED Mirrors are hefty, you must carefully follow these directions in order to use them to their best potential. 
1. Prepare the Resources
You must have all the necessary tools ready before mounting the LED mirror, including a measuring tape, a wrench, a handheld drill, a metal screw, and a plastic expansion screw. To use these materials effectively, you must have an understanding about how to do so.  
2. The distance between the two hanging clamps should be measured
Making holes in your wall is a permanent process. Therefore, when drilling holes in your wall, you must be careful to choose the proper distance. Mark the areas with a measuring tape where you'll install the LED mirror screws.
3. The plastic expansion screw should be secured with metal screws
Add the metal screws after you've put all of the plastic expansion screws into the holes. With a screwdriver or an adjustable wrench, you can fasten it or twist it until it is fixed and unmovable. 
4. Hang the Mirror On the Wall
Make sure the metal screws are placed into the clamps at the back of the mirror before placing it carefully against the wall. Make sure they are positioned precisely and firmly.
So, now you know what you get with an LED bathroom mirror, and how to install an LED bathroom mirror.