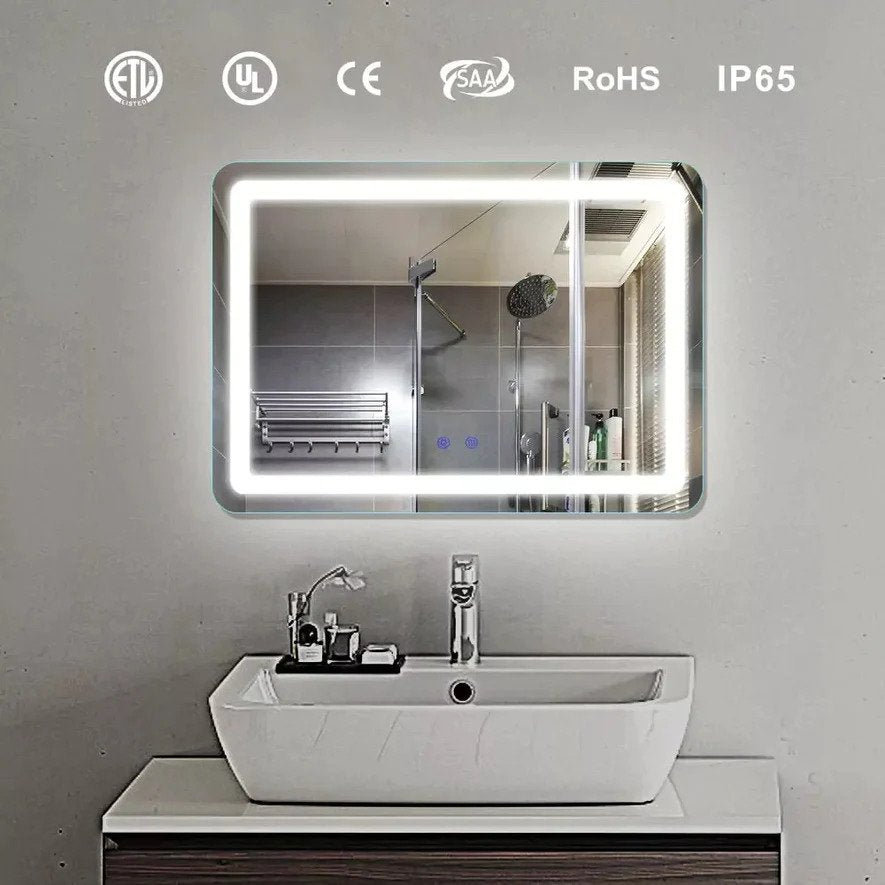 How Anti-Fog LED Bathroom Mirrors can do Wonders? Is it Worth Buying?
We have all experienced this thing – when you step out of the hot shower, you find your bathroom mirror fully steamed up. Within a few seconds, a layer of water droplets settles on the mirror. This is even more frustrating.
You start to wonder how you can stop your bathroom mirror from steaming up. No need to rub the mirror surface, instead, invest in a bathroom mirror with a defogger system to see a clear reflection at all times.
Before purchasing, here's everything you should know about anti-fog, LED bathroom mirrors:
What is Anti-Fog Bathroom Mirror?
LED bathroom mirrors are gaining a lot of attention lately. They will leave you amazed with a plethora of features and are sure to stimulate your mood. When renovating your bathroom or vanity, the addition of anti-fog, Cheap Bathroom Mirrors With Lights can elevate the overall aesthetic and functionality.
Anti-fog bathroom mirrors contain a demister pad that prevents condensation build-up, which usually occurs when taking a hot bath or shower. This fog-free lighted mirror defogs itself from the center outwards, providing you with a clear reflection even in the steamiest of bathrooms.
How does Anti-Fog Bathroom Mirrors Work?
Let's get into some science first – Condensation takes place on glass surfaces and windows when hot water from your shower or bath turns into steam and then cools down. It forms on mirrors, tends to fog up, and hence, impairs the reflective properties. It takes about 10 minutes to get the smears and streaks to go away.
Gladly, this is not the case with anti-fog bathroom mirrors with lights. When switched on, the heating element warms the mirror surface, which means condensation is less likely to form, and you get a fog-free mirror.
How to Install Fog-Free Bathroom Mirrors?
Fog-free LED bathroom mirrors come in various shapes and sizes. It includes energy-efficient lighting and other add-on features that come in handy for many situations. If you want to upgrade your bathroom look and feel, a mirror with lights and a demister pad can be your best bet.

Anti-mist bathroom mirrors usually require wiring into mains and can be connected to the existing light circuit. You might need a technician to install it. The running cost is equivalent to a single light bulb.
Benefits of fog-free bathroom mirrors:
No waiting – avoid smears and streaks – only crystal clear vision
Ideal for mornings when you're in a rush
Perfect for makeup routine, shaving, or getting ready at night
Ideal for bathroom or vanity space
Complements bathroom of any size and interiors
Other features:
Adjustable CCT – You can use the simple touch buttons to adjust the brightness level or choose between warm, natural, or white colour output. It allows you to match your room's lighting for a captivating appeal.
Smart Memory Function – It records and remembers your last lighting settings, allowing for a quick and comfortable morning routine.
Touch Sensor Switch – You can control brightness level, lighting mode, and everything with a smart touch sensor switch.
Waterproof – Made with high-quality tampered glass, prove to be durable and strong. It is shatter-resistant and waterproof, giving you complete peace of mind.
Installing fog-free illuminated bathroom mirrors is as simple as securing mirror holders and plugging in the power cord. You can buy with confidence at Suntask.ie, knowing your mirror has robust features and a contemporary look to elevate your space.
We deliver Bathroom Mirrors Ireland timely at competitive prices. A knowledgeable team is always here to resolve your queries. Feel free to contact us for further information.